Background
The Turkmenistan – Afghanistan – Pakistan – India (TAPI) gas pipeline project aims to bring natural gas from the Gylkynish and adjacent gas fields in Turkmenistan to Afghanistan, Pakistan and India. The ADB is acting as the facilitator and coordinator for the project. The feasibility study, proposed to lay a 56-inch diameter 1,680 KM pipeline with design capacity of 3.2 billion cubic feet of natural gas per annum (Bcfd) from Turkmenistan through Afghanistan and Pakistan up to Pak-India border.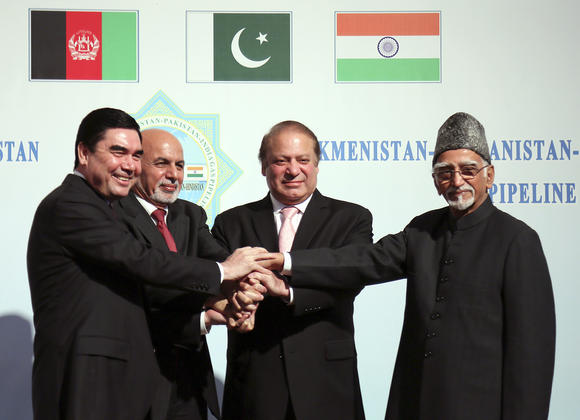 Highlights
Gas Volume: 3.2 billion cubic feet of natural gas per day (Bcfd)
Gas Supplier: Turkmenistan
Gas Buyers: Afghanistan (500 MMcfd), Pakistan (1,325 MMcfd) and India 1,325 MMcfd)
Supply Source: Gylkynish and adjacent gas fields
Pipeline Dia: 56-Inch
Proposed Route: Supply Source: Heart – Kandahar – Chamman – Zhob – DG Khan – Multan - Fazilika (Pak-India Border) with total Length of 1,680 KM
First Gas Flow: 2020
Status Of Agreement
Intergovernmental Agreement (IGA): Signed by the Head of States of all the member countries on 11th December 2010.
Gas Pipeline framework Agreement (GPFA): Signed by respective petroleum ministers of four countries on 11th December, 2010.
GasSale and Purchase Agreement (GSPA): Turkmenistan-Pakistan and Turkmenistan-India bilateral GSPAs were signed by the heads of respective commercial entities on 23rd May 2012. Turkmenistan-Afghanistan signed the bilateral GSPA on 9th July 2013.
Operations Agreement: Signed between all four TAPI countries on 9th July 2014.
Transaction Advisory Services Agreement (TASA): TAPI Parties and ADB signed TASA on 19th November 2013 at Ashgabat-Turkmenistan.
Transit Fee Arrangement: Parties agreed to a transit fee figure with consensus on 17th April 2012.
Shareholders Agreement: After resolution of all issues, Shareholder Agreement has been Signed by the Parties on 13th December 2015.
Investment Agreement: Investment Agreement signed on April 7th 2016.
Gas Transportation Agreement: Draft agreement is circulated by Transaction Advisor and is under negotiations between TAPI Parties.
Pipeline System Rules: Draft agreement is circulated by Transaction Advisor and is under negotiations between TAPI Parties.
Stone Laying: December 2015
Current Status of the Project:
TAPI Pipeline Company Limited (TPCL): TPCL has been incorporated in Isle of Man on 11th November 2014. The first Board Meeting has been held in Ashgabat, Turkmenistan on 19th November 2014. Pakistan has been selected Chairman of the Board of TPCL.
Completion of Technical Studies and Preparation of Information Memorandum: With the above mentioned agreements in place and some under negotiations, the Asian Development Bank (ADB) as Transaction Advisor has started its work and different technical studies required for the preparation of Information Memorandum/Bidding Documents are underway. Transaction Advisor submitted the part of their scope of work.
Selection of Consortium Leader: Initially Turkmen Party was negotiating with different IOC to be potential Consortium Leader. However, in the 22nd TAPI Steering Committee (SC) meeting held on 6th August 2015 in Ashgabat, breakthrough was achieved when Turkmenistan proposed itself as Consortium Leader and SC unanimously endorsed State Concern "Turkmengaz" as the Consortium Leader of TAPI Pipeline Company Limited.
Stone laying ceremony of the Project held in  Turkmen city of Mary near the Galkynysh natural gas field on 13th December 2015 and was attended by President of Turkmenistan Gurbanguly Berdimuhamedov, Prime Minister of Pakistan Nawaz Sharif, President Afghanistan Ashraf Ghani Ahmadzai and Vice – President of India Mohammad Hamid Ansari.
Cost Structure:
Pursuant to Turkmenistan agreeing to become the Consortium Leader for the TAPI Project thereby contributing upto 85% of equity, it was decided that rest of TAPI members namely Afghanistan , Pakistan and India would take 5% each equity share in the Project Company.
The overall project cost was estimated at US $ 10 billion including financing cost. Pakistan share @ 5% is estimated at US $ 200 million, which covers both pre and post FID stage.